by Bella – blogger
Scandal is one of the hottest shows on television right now, and if you're not watching just know that you're being excluded from passionate conversations and pertinent pop cultural information on a weekly basis. It happened to me and I had to catch up real quick to stay current. Every Thursday night, that is ALL my Twitter timeline is talking about. #Scandal #Scandal #Scandal.
The show's popularity can directly be attributed to the jaw dropping, lip quivering beauty that is Kerry Washington (@KerryWashington), the razor sharp dialogue from Shondaland, and the sizzling intrigue bubbling between Olivia Pope and her competing powerful lovers.

Olivia Pope's wardrobe might as well be listed as a breakout character on the show. Every week, viewers tune in to ooh and aah over Kerry Washington's every outfit change. The show's costume designer Lyn Paolo (@LynPaolo) deserves all kinds of awards for her work, in my opinion. She's managed to create a style shift and a new fashion icon we can look to for inspiration. However, here's the thing, though. Olivia Pope is pin thin. The clothes chosen for her are exquisitely tailored to her physique. She wears white and guzzles red wine without ever spilling on herself (I would be so happy to see just ONE scene with Olivia emerging from the laundromat with an armload of white outfits, just to know she's human). The actual items she's wearing can be found with regularity on Possessionista.com, but none of them come in plus sizes. What's a full figured wannabe Olivia Pope to do?

I consulted the ultimate Scandal fan, Luvvie Ajayi (her recaps are everything) for tips on what one would need to create the ultimate Scandal wardrobe. She pointed out to me that Olivia Pope tends to wear white, neutrals, and structured pieces in grey – and in my experience, plus size designers tend to drift away from this palette. It took some looking, but I found items that will work for myself and all plus sized Gladiators. You're welcome!

Olivia Pope fashion essentials for plus sizes

1. Tan or white trench.

Olivia Pope is known for striding confidently in a tan or white trench, most often while barking orders into her cell phone. Plus ladies, you can get your stride on in this tan collarless trench by Simply Be. This Asos Curve double breasted trench looks super official, no? This tan military textured jacket from Roaman's via One Stop Plus could also be a fit for this need. Also this super expensive grey Cinzia Rocca coat from Nordstrom is very Olivia IMO, price point and all.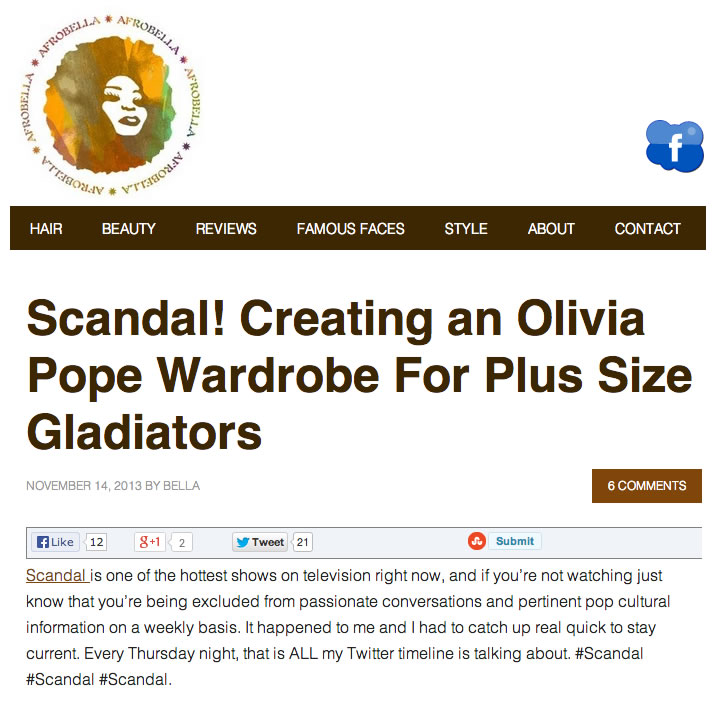 Media Credit: